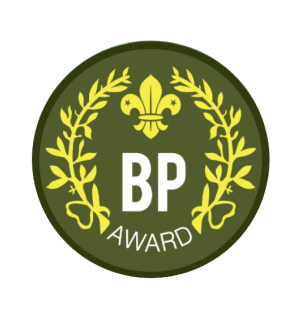 The Baden Powell Award is the highest award attainable by Rover Scouts in the Singapore Scout Association. It is the pinnacle achievement Rover Scouts can attain in their Rovering journey.
The award is named after Lord Baden Powell, founder of the Scout Movement, and the naming of the award aims to remind recipients of their responsibility to uphold the ideals espoused by Lord Baden Powell in their thoughts, words and deeds.
Rovers pursuing the Baden Powell Award may only qualify if they have demonstrated enough commitment to fulfilling the award's requirements. This includes reflection journalling, positive peer reviews, and clearing an interview with a panel of commissioners. The process ensures that awarded candidates have a firm grasp of the Scout Method and the other values shared by Lord Baden Powell.
Andrew Toh
Marcus Tan
Lai Wei Song
Jasmine Ng
Huang Chaojie
Lee Seng Hui
Lim Hui Shi
Andrew Ang Kah Hin (Honorary)
Chong Kian Wee, Jacky
Goh Seng Ann
Lim Fang Ren, Manfred
Rishab Patwari
Tang Tay Hwee
Hulbert Teng Ee Jun
Jerrold Chan
K S Vikneshan
Madhan s/o Elavalahan
Yee Kok Hui
Yee Wei Lei Woody
Tan Cheng Kiong (Honorary)
Terence Loh Kong Joe
Li Yihui Ivy
Seah Kia Wee
Daniel Ang Teck Siang (Honorary)
Goh Wei Xuan
Heng Jiang Li
Jason Lim Yu
Kelvin Leong Kwang Yeh
Koh Rui Yang
Shawn Tan Kian Chong
Boey Mao Qing
Luo Gulin
Alaric Leong
Benjamin Sho
Christopher John
Justin Ng
Nicholas Koh
Oliver Lim
Chua Yong Liang
V K K Arumugam
Chay Hong Leng (Honorary)
Dr Chua Kian Wee (Honorary)
Dato Dr Boey Mao Jie
Leong Kok Wai Lester
Maohaid Faizal Bin Kasmin
Muhammad Khair Bin Sami'an
Seng Yi Lin
Wong Chun Yeow, David
Ang Kin Peng
Teo Chun Liang, Rick
Wong Yew Hoong
Our Programmes
Discover the exciting world of Scout programmes and unleash your potential by joining us on a journey of personal growth, adventure, and community building.